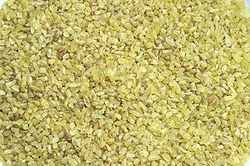 a close up photo of bulgur from Wikipedia
The stereotypical menu for a farming family is meat and potatoes; yet, many farm families are touched by menus full of vegetables or other produce grown in the family garden. As a town girl, when I want to think about eating in a more healthy way, I think about getting back to whole grains and vegetables, not necessarily to replace meat and starches but to have more balance in my eating. For the first time, I am going to include a recipe here. It is full of whole grains, protein, fiber, and other good things for a healthy and surprisingly filling meal.
The name of it refers to it as a salad, but it can also be used as a non-meat, main dish. I have never put everything in the recipe in my mixture at the same time, but I have always included the lentils, bulgur, and feta cheese. The other ingredients depended on what we had on hand or remembered to purchase.
Lentil-Bulgur Salad
Prep. time 30-40 min. Yield 6 servings or more (for me it's definitely more)
1 c. dry lentils fresh black pepper, to taste
2 c. water 1/4 c. packed freshly minced parsley
1/3 c. finely minced red onion
1 c. dry bulgur wheat 1 small bell pepper, diced
1 c. boiling water 1/2 stalk celery, finely minced
1/2 c. crumbled feta cheese
1/4 c. olive oil* 1/2 c. olives
1/4 c. lemon juice** 1 med.-sized tomato, diced (or cherry tomatoes)
2 med. cloves garlic, crushed 1/2 c. chopped toasted walnuts (or other nut)
1 tsp. salt squeezable wedges of lemon, for garnish
1/2 tsp. oregano
2 Tbs. freshly minced mint
(or 2 tsp. dried mint)
1) Place the lentils in a medium-sized saucepan. Cover with 2 c. water, and bring just to the boiling point. Turn the heat way down, partially cover, and allow to simmer without agitation for 20-25 minutes—or until tender, but not mushy. Drain well, then transfer to a large bowl.
2) While the lentils are cooking, place the bulgur in a small bowl. Add boiling water, cover with a plate, and let stand 10-15 minutes while getting the other ingredients ready.
3) Add everything to the lentils, except tomato chunks, walnuts, and lemon wedges. Mix gently but thoroughly. Cover tightly and refrigerate.
4) Just before serving, top with tomatoes and walnuts. Garnish with lemon wedges. Can be served warm right after its creation or can be served cold.
*I sometimes like my onions and bell peppers to not be totally crunchy, so I might sauté them a little in the oil before mixing in the other ingredients.
**I have substituted apple cider vinegar or red wine vinegar; however, that often makes the salad a little too tart and requires a sprinkling of sugar added in.
If try this, let me know what you think. Have a healthy recipe that has touched your family and that you would like to add? Please feel free to share it or provide a link to it.