It appears I have fallen off the face of the earth. No, that's not it. Probably like your family, our family has been touched by the beginning of the traditional school year. Now, I am buried under lesson plans, teaching, and trying to do my own homework so the kids don't get too far ahead of me. :-) (And keep up with other obligations as well.)
Sometimes I don't know how little I know until I try to show my kids what they should know; then I realize I don't know as much as I should either.
For example, math. Why did
I
need to take geometry? Why did
I
need to take anything higher than Algebra II? Because one day I would have to teach my kids those subjects!
(Now it looks like I should have taken those subjects.)
Then there's Latin. Who in the world studies Latin
these
days? Guess who? Yep. Don't ask me any questions about Latin. I can barely keep up with beginning Latin myself. :-)
I guess I'm never too old to learn; I just might have to approach it a little differently. At least I am a living example of what I tell my kids: "Be a lifelong learner. You never know what God might have you do next, and as long as you are willing to learn and to follow Him, you will be ready."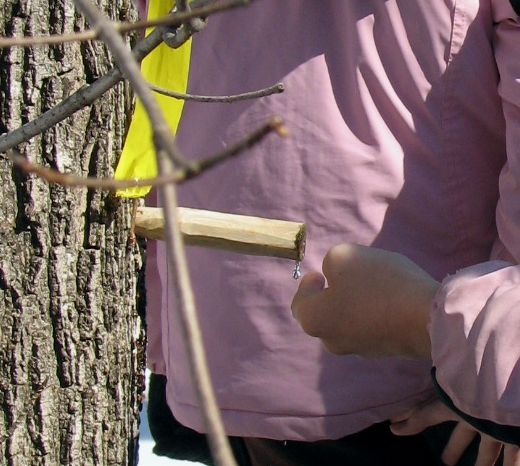 If some people have enough dedication to turn
little drops of watery tree sap into delicious maple
syrup, surely I can blog for 31 days. Or maybe not.
Cross your fingers for me. In the back of my head, I thought I might participate in the 31 Day Challenge started by another blogger to be done annually in October. For the challenge, bloggers pick a theme and post an article everyday for the 31 days of October. Right now it looks like an impossible feat for me. Let's see what happens.
We are all busy, and I want the time you take to read my blog to be worth your effort. I do not expect that I can personally say anything that will improve your lif
e, but I pray that what I say will touch you (and your family) in a way that will trigger you to make the changes in thought or action that you need to make.
So, for my part in this journey, I can either add to my lifelong learning skills by finding a way to incorporate the 31 Day Challenge into my already busy day or let my blog become one of the many blogs that lack consistency and dedication.
Hmm, that last sentence is rather convicting. But then, conviction is what it will take.